Integrations
In Telia Smart Connect you have several direct integrations to make you more efficient and provide better customer service. Especially if using Microsoft 365 you will see great value in the simple to set up integrations. Telia Smart Connect can also offer an open API that enables custom integration to any customer and existing 3.parties that have a ready to use integration towards Smart Connect.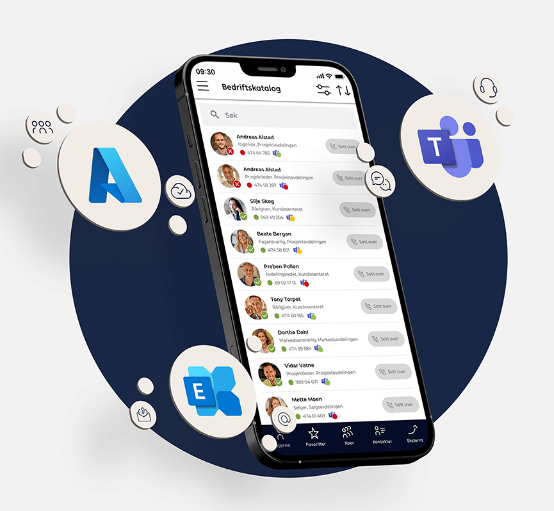 The different available integrations
Sync calendar event from Microsoft 365 to Telia Smart Connect to enrich the Company Catalogue on web and mobile app. This make it easy to see colleagues availability, when in a call and decide who to transfer calls to. It also enable automatic update of users availability in Telia Smart Connect based on calendar event, and automatic log in and out of queue.
MICROSOFT TEAMS PRESENCE INTEGRATION
Integration enable a one or two way real time status integration between Telia Smart Connect and Microsoft Teams. The one way integration make it possible to see colleagues Teams status in the Telia Smart Connect company catalogue, so that even if they are not in a meeting, you can see they are busy in a Teams call or not available. You can even enable a two way sync to update the Teams status of users with "Busy in a call" when they are talking on their mobile phone or built in webphone. With this integration you will always know if your colleagues are available both when logged into the web and when you are on the run.
MICROSOFT ACTIVE DIRECTORY INTEGRATION
To be efficient you need to be able to quickly find the right colleague, and to know the information is valid and updated. For this reason, Microsoft Active Directory integration enable you to sync user details from Microsoft 365 Active Directory to your users in Telia Smart Connect. Map and sync any field and users profile image from your AD to the user Telia Smart Connect and secure correct information is available across the organization through Telia Smart Connect web and app.
To make it possible to do smart integrations from any system to Telia Smart Connect we have the feature rich Integrator API. This is used by customers to create their own custom integrations, or to enable integration to 3.party systems that have already integrated their service to work with Telia Smart Connect. This is typically different CRM and Call center solutions to enrich these systems with line status, availability, call handling and automatic lookup of customer contact card.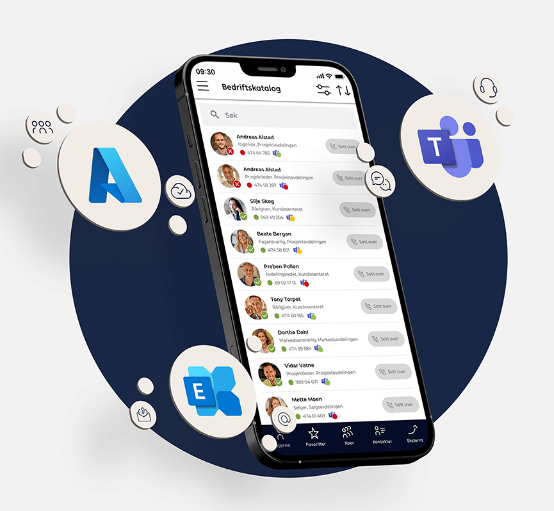 A complete telephony solution
AD Integration
Calendar integration
Teams presence integration
Integrator API